Outside St Philip's, Birmingham Cathedral.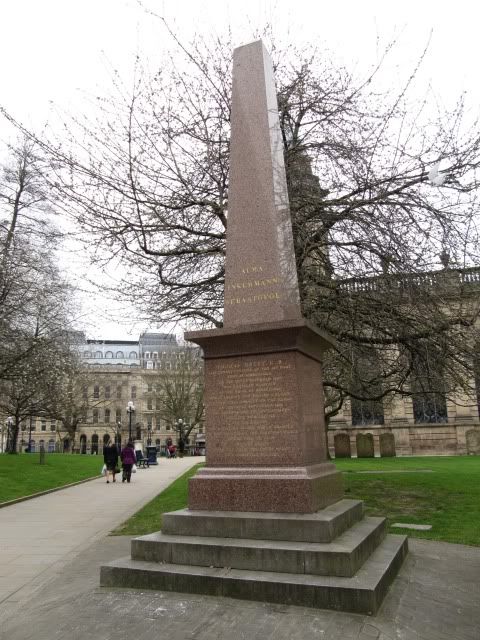 ALMA
INKERMANN
SEBASTOPOL
THOMAS UNETT, C. B.
LIEUTENANT COLONEL OF THE 19TH FOOT
BORN IN BIRMINGHAM
ON THE 12TH OF NOVEMBER 1800
WAS MORTALLY WOUNDED
AT THE SIEGE OF SEBASTOPOL
WHILE LEADNG THE BRITISH COLUMN
TO THE FINAL ASSAULT ON THE REDAN
ON THE 8TH OF SEPTEMBER 1855.
HIS FRIENDS AND FELLOW TOWNSMEN
DEDICATE THIS OBELISK
TO HIS MEMORY
AS A RECORD OF THE NOBLE EXAMPLE
OF ONE WHO CHOSE THE FOREMOST PLACE
IN THE PATH OF DUTY
AND MET DEATH
WITH THE CALM UNDAUNTED SPIRIT
OF A CHRISTIAN SOLDIER