[Note: I was almost finished this rather long-winded "dissertation" when L.Braden posted his much more succinct response!
]
I equate the descriptions of the revolvers in the above-quoted passage - which in turn are apparently quoted directly from the government orders/contracts - to what we generally refer to as the "Beaumont-Adams" .... If I understand your observations correctly, do I take it correctly that these were in fact what you refer to as "earliest Adams-type revolvers ... adapted to double-action" rather than the "specific fixed design from about 1860/62"?
Here is another quote from Chamberlain and Taylerson (following, but one paragraph removed from, the quote above) which may shed further light on the issue ....
or
may make things even "fuzzier" -
Strictly, these first double-action British service revolvers (as they came to be) were

Robert

Adams' self-cocking design of 1851, improved by Lieutenant F.B.E. Beaumont as shown in Figure 1.2 and promoted by the firm of Deane, Adams & Deane. Modern collectors call such weapons "Beaumont-Adams," but the British Ordnance called them "Dean's" or "Dean & Adams" or even "Deane's" revolvers, and we shall follow their practice, so that an "Adams" service revolver in these pages will be a breech-loading weapon designed by

John

Adams.
This passage alludes to a very important factor to be kept in mind in considering the service revolvers of the day - i.e. that the early
Robert
Adams percussion military service revolvers - rendered double-action/single-action by incorporation of "Beaumont's improvement" - were in fact a different design than the later
John
Adams-designed breech-loading (i.e. cartridge) service revolvers - namely, the Mark II and Mark III Adams. Further confusion arises from the fact that the very
first
British cartridge service revolver (now generally referred to as the "Mark I Adams") was actually the "Dean & Adams' Revolver Pistol Converted to Breech-Loader by Mr. J. Adams" (as it is described in the List of Changes) - i.e. the
Robert
Adams-designed percussion pistol, incorporating Beaumont's improvement, converted into a metallic cartridge breech-loader by
John
Adams!
When you say that the "shape of the 1850's Adams is quite different to the shape of the 1860's Adams", do you refer primarily to the frame protrusion of the Robert Adams service revolvers, through which the cylinder axis pin passes, with the rather pronounced rounded or bulbous looking lower profile, which is absent from the Mark II and III Adams cartridge revolvers? If so, I believe the factor stated above is the explanation.
With respect to patent dates, by the way, my references indicate that Beaumont's initial patent application for his improvement was filed 20 February
1855
, but did not specify any specific revolver design. His later "Complete Specifications" filed on 19 July 1855 made it clear that it was the Robert Adams revolver (incorporating improvements specified in Adams' own patent application of 15 December 1854) that was contemplated. In accordance with established practice, Beaumont's patent (374/1855) dates from the date of his initial filing on 20 February 1855. (Ref:
"The Revolver, 1818-1865"
, Taylerson, Andrews and Frith)
In any event,
my
understanding -possibly erroneous - is that the progression of "Adams"
military service
revolvers (i.e. not revolvers manufactured for commercial sale) goes like this -
- Beaumont-Adams
percussion
revolvers (i.e. referred to in my first quote from Chamberlain & Taylerson as "Revolvers, Dean & Adams improved on Beaumont's principle" and "Pistols, revolving, Dean & Adams' patent, with Lieutenant Beaumont's improvement") - In other words, it is my understanding from Chamberlain & Taylerson that all Robert Adams percussion revolvers contracted for by the War Department from August of 1855 would be considered "Beaumont-Adams" revolvers. These are the only two images (with captions) of such Adams percussion revolvers in Chamberlain and Taylerson's volume, and it is my understanding that all of the Robert Adams percussion revolvers (with Beaumont's improvement) contracted for by the War Department looked like this -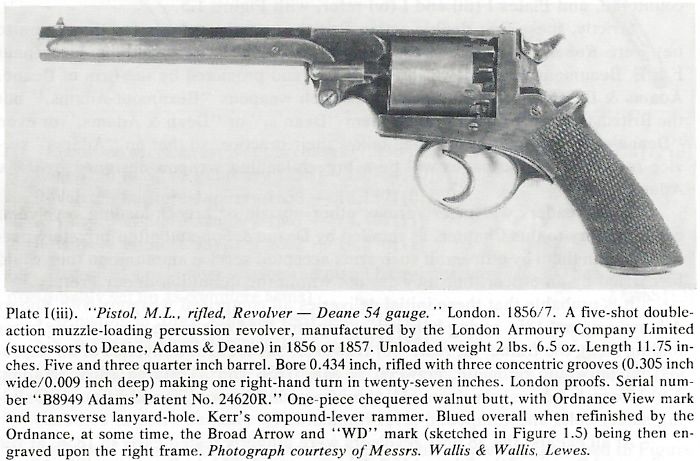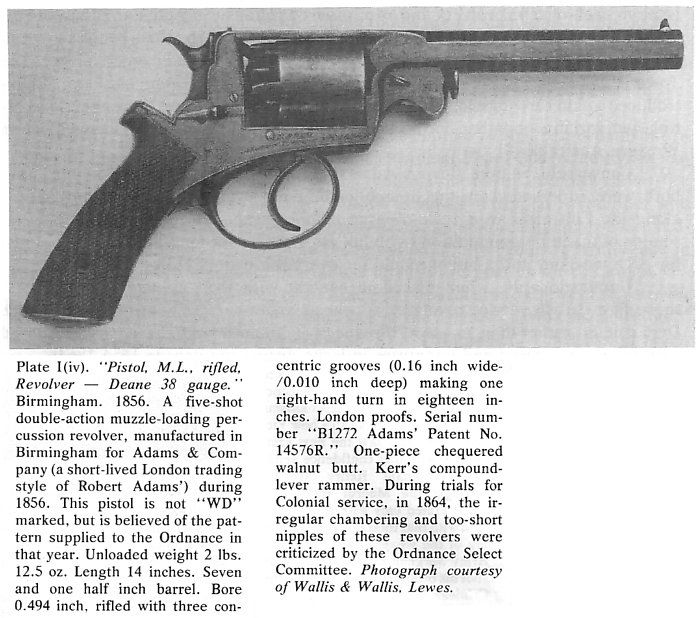 It is my further understanding that the War Department had refused to consider adoption of Robert Adams' original 1851 design because it was "self-cocking" only (i.e. double-action only) and lacked a thumb -cocking (single-action) capability .... Thus, Colt's single-action-only revolver was acquired first .... and Adams design was not accepted
until
it incorporated Beaumont's improvement, which permitted thumb-cocking.
- "Mark I Adams"
cartridge
revolver (described in the List of Changes as "Dean & Adams' Revolver Revolver Pistol Converted to Breech-Loader by Mr. J. Adams" - i.e.
Robert
Adams' percussion design converted to metallic cartridge by
John
Adams) -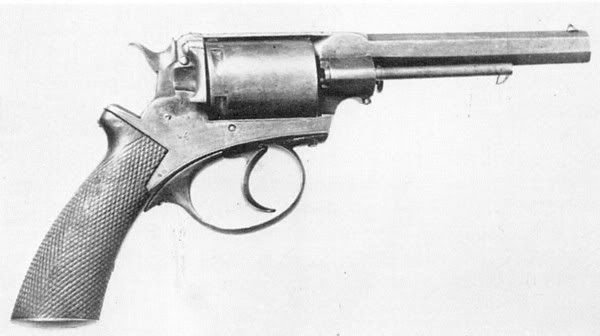 Mark II Adams cartridge revolver (
John
Adams design) -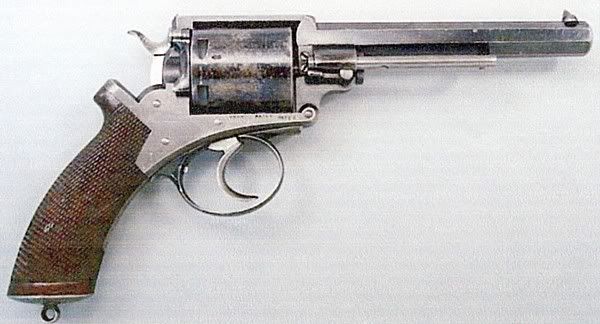 Mark III Adams cartridge revolver (
John
Adams design)-