Hello folks. I've been doing some research into my great-grandfather's military service prior to his death in Oct 1914 in France. We're lucky that some of his service record survived the WW2 bombings and we've been able to trace some of his army service through war diaries and a few photos.
Whilst going through his effects we came across a commemorative medal, presented by the Borough of Portsmouth in 1902, for service in the Second Boer War (Naval Brigade).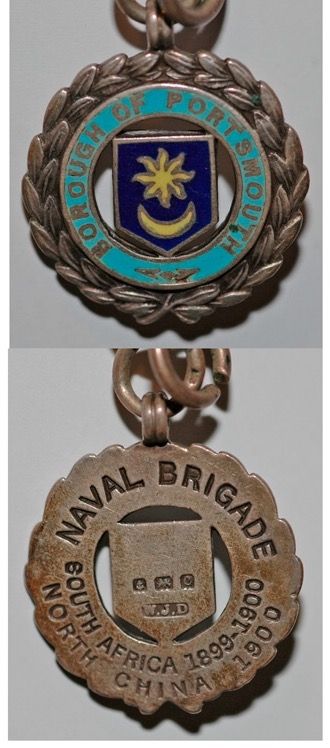 He had been born in Portsmouth but was living, as of the 1901 census, in Battersea, London. The medallion was on his watch chain along with a couple of foreign coins acquired during overseas service between 1903 and 1909. He had had no Naval service.
The presence of the medallion did however get me scratching the surface of his service history and this is where I'm hoping the forum experts can perhaps help me. He enlisted into The Rifle Brigade on 9 July 1903, aged 20 years and 6 months. On the attestation form however, it states that he was a member of "1st Surrey vol; Rifle Corps". I'm taking this to be the 1st Surrey Rifle Volunteer Corps.
Could there perhaps be a connection between his owning the Boer War medallion and him perhaps having served there, maybe with the CIV or East Sussex Regt (?) Is it possible to go and search records of these units somewhere in London? As far as we know, none of his immediate family served in the navy/military.
I'd be very grateful for any expert knowledge and/or guidance! Thank you.
L.Cpl Cecil Scott Hickey, 9918, The Rifle Brigade. b. 28 Dec 1882 d. 19 Oct 1914